the fas'ners / the würst - live @ sarasota succulent society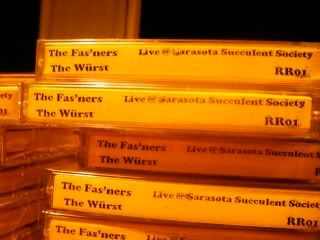 photo courtesy of stead thomas
Roofless Records 01
Live sets de
The Fas'ners
and
The Würst
from a house party on
March 9, 2007
.
Tyger Beat, Space Manatee, Pharaoh Faucett
and
The Sharks
also played. People crowd surfed in the living room + did everything they could to lose their minds. The whole night was recorded onto a one track tape recorder which was left on the table. The only band that wasn't recorded was Pharaoh Faucett and there was a reason. That same reason led to the tape being "lost" only to be found again because it wasn't lost in the first place.
Culled from these sessions is the last set from Tampa's THE FAS'NERS: pleasure in the future, ups and downs, swelling grand piano synthesizer music. 13 minutes 40 seconds. On the B-side is a 4 minute 53 second dirty dirge (and first set) from Sarasota's THE WÜRST: like being in the middle of a volcano in the middle of Jupiter in the middle of da Universe (wild, whipping synth + hheeaavvyy guitar) cover art by Allie Weiss. 99 of these tapes exist.
$3
in person (at shows, around Sarasota and Tampa, etc).
If you don't live in Sarasota / Tampa and are interested in buying one drop a line here:
rooflessrecords(a)gmail.com
The release party at
The Crystal Cathedral
was off the chain. 5 bands were on the flyer; by the end of the night 10 had played and one or two had formed. Party favors were in abundance, including an endless supply (akin to Christ's miracle with the fish and loaves) of Sloppy Joes. Allie (Würst) played in her dog's cage on top of a table in the middle of the room. A strobe light was going as was some fake blood, everywhere. The whole scene had an Island of Dr. Moreau vibe going.
the würst live @ the crystal cathedral 1/25/08
psychedelic rendering of the würst courtesy of stead thomas
photo courtesy of cesar mantillaLive @ Sarasota Succulent Society
documents The Fas'ners farewell show, but Tampa's
Pro Bro Gold
(ex-Fas'ners) was on hand at the release party.
pro bro gold live @ the crystal cathedral 1/25/08
video courtesy of cesar mantilla