stead and his larson live @ the crystal cathedral ?/10/07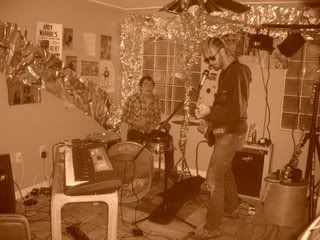 Stead and His Larson
are a two piece party rock outfit specializing in covers and karaoke classics. The duo (Stead Thomas and his Larson, Nicky) (accidentally) broke out onto the Gulf Coast scene in the fall of 2007, quickly gaining notoriety amongst drunk friends, confused acquaintances and annoyed neighbors with now infamous (not to mention essential) covers of "That's What I Like About You" and "Breakfast At Tiffany's." The style is reminiscent of 70s dirge kings Flipper and recent sets have featured an unfuckwithable cover of the Eddie Murphy classic
"Party All The Time."
The following videos were shot by Stead at Sarasota house party staple
The Crystal Cathedral
, which, incidentally, was where S&HL got their start.
mao dix live @ the crystal cathedral 01/19/08Mao Dix
is a Sarasota two-piece featuring members of Pharaoh Faucett. This was the first set of a long night at The Cathedral as well as the first from the Dix since Spring 07.
blonde god live @ the crystal cathedral 01/19/08
In the grand tradition of Tampa two-pieces this guitar and drum duo make me hear colors. What about you?
P.S.
here's an actual video of Kyle Mack actually drinking actual urine for $50 outside of the
Kites / Byron House
pre-INC show at the New College Bikeshoppe on 02/12/08. What's your price?